Do you want to create a beautiful, cozy home that expresses your style at a reasonable price? We think our original hand-crafted designs can help you do that.
The fabrics on our website are grouped by color story, home decor style and pattern type to make it easier to find fabrics you might like.
By offering our original designs directly to you we can make our prices affordable.
Making your final decision gets much easier if you buy our low-cost swatches first. Choose any fabrics you like and see how the fabric will look with your existing decor.
Only $3.00 per swatch with Free Shipping. 
TO FIND OUT HOW TO ORDER SWATCHES click here.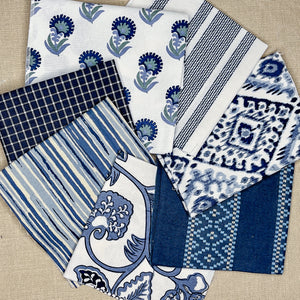 SHOP HOME DECOR FABRIC BY COLOR
Other ways to browse our fabrics
COLORLOOM OFFERS HOME DECOR FABRICS IN ORIGINAL FABRIC DESIGNS BY LAURA AND KIRAN SINGH
Since 1982 we have been designing high quality, hand-crafted, home decorator fabrics from our studio in Berkeley, California. Up until now these designer fabrics were sold exclusively to manufacturers, catalogs and stocking workrooms. We are excited to make them available here to consumers who can now shop fabric online to beautify their home.

All ColorLoom fabrics for home decor are hand-crafted using natural yarns of cotton and linen. The dyes used have no harmful chemicals. Our fabrics are printed and woven in India by traditional craftsmen who follow ethical and environmentally sound business practices.

The fabrics are stocked in Berkeley, California.
Five-star Reviews from Some of our customers
Love this fabric

This fabric is beautiful and amazing quality for the price - wonderful neutral colors and interesting texture. Perfect for my pillow project. Will certainly buy more from Colorloom. And the fabric arrived quickly.

Anne Taylor
Fabulous purchase

I've always admired the fabrics at the ColorLoom Fabric store. When the occasion arose to search for a table cloth, I immediately thought of ColorLoom. Lured by the exceptional variety and choices, I was able to find a fabric which fit the bill in color, texture and quality. I love my new table cloth…farmhouse stripe in black/ flax…it has a casual rustic yet elegant appeal.

Wendy Draper
Love!

I love this fabric. Quality is phenomenal, even more gorgeous in real life. Purchased along with the teal Bandolier pattern for a couple stools. Now trying to decide which pattern I will buy next for some couch cushions.

Rebecca Fincham
Get Inspired
See how our customers have used our original home décor fabrics, and get inspired on our Instagram feed. Updated daily.
Take a Look
What We Do
We have been designing and producing our own original fabrics since 1982.  Our designs are included in the collections of manufacturers of high-quality furniture, bedding, pillows and in interior design showrooms. Our hand-crafted look fits into traditional décor as well as contemporary décor.
Learn More
THE MAKING OF OUR FABRICS
Hand Crafted
All ColorLoom fabric designs are handprinted or hand-woven by master craftsmen in India.
Watch the video
Natural Fibers
Our prints, yard dyed stripes, checks and solids are made of natural fibers – cotton, and linen.
Watch the Video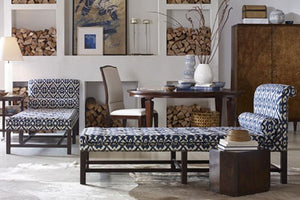 Home Decor
Color Loom fabrics in the home.
Browse Our Fabrics